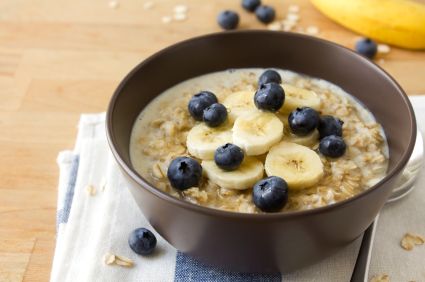 When it comes to breakfast at this time of year, a piping hot bowl of oatmeal is hard to beat. It's ready quickly in the microwave, you can add almost any kind of topping to it and as a whole-grain it's loaded with nutrition. You can pump up this classic cold-weather breakfast even more during National Oatmeal Month by adding a spoonful of peanut butter or a topping of crushed peanuts to your bowl of oats. The combination of mostly good fats, fiber and protein found in peanuts and peanut butter will keep you energized all morning.
Here are three other ideas for your oatmeal this month:
Give your breakfast a savory spin by adding a fried egg, wilted spinach and a few splashes of hot sauce or sriracha.
Create PB&J in a bowl by swirling in a spoonful of peanut butter and topping with sliced strawberries, bananas, blueberries or a tablespoon of your favorite preserves.
Add a tablespoon of pumpkin puree, one teaspoon (or more) of cinnamon and allspice. Top with crushed peanuts for a satisfying crunch.
What's your favorite way to enjoy oatmeal?